January 20, 2023
Incorporating Superpowers
---
Justin Recla:
Welcome back to Incorporating Superpowers. My guest today is Aaron Bare. And folks we are going to be having, we're going to have a lot of fun on this conversation because it's all about Exponential Theory, thinking big, and well evolve or die is really what it comes down to, if you want to stay relevant, you're going to have to learn to remain relevant, and that was going to require us as a society as individuals to evolve into something bigger. Aaron, welcome to the show today.
Aaron Bare:
Thanks, Justin. Glad to be here.
Justin Recla:
Now, Aaron, you've done a thing or two in the world. I know you're a professor at ASU, you're big, huge, huge changing here in the Phoenix metro area. And globally. I mean, talk to me about some of the programs that are coming, that you're coming up with right now that you're part of that stems from this concept of bigger thinking expedition theory. Who is Eric Bare? And why should people listen?
Aaron Bare:
Did God adjust? Well, as you said, I consider myself a change agent, looking to make the greatest impact I can with the time that I have, what projects I'm really working on, as I'm launching a venture studio, we've raised a considerable amount of money that we're going to deploy to find some of the best startups to really accelerate them to be exponential. So using a lot of the stuff that I've crammed in the book around my 15 years of research of how some of these big thinkers have thought exponentially, how do I help the next generation of leaders adopt those methodologies, and really scale their leadership to think exponential, because it is very different than the linear leader that was able to chronologically look back and say, This is why I made these decisions. The reality is, we're just on an accelerated pace that we have to think bigger than we've ever had to think about before. I'm also working with a company called Canon Carta that's really on an exponential growth path where they've just passed 2000 consultants, and head of the digital transformation, helping them really drive solutions and organization. So they survive as you said, and I've been saying thrive into the future, because of leveraging cloud technologies. The reality is every as things become digitized, the speed is sped up, and companies need to adapt to these cloud technologies to be able to keep up so they can continue to be lean, iterative, and agile so that they pivot as their business model is obviously going to go through a lot of fluctuations.
As we see every business is really in a process of reinventing itself right now. Even your big companies like Apple or moving to subscription models and different things that you would have never thought they would be able to do 10 years ago, but you see this reinvention of even the product mix and how they're actually going to market. A lot of the mainstream platform companies like Facebook, literally rename themselves Meta to think about where they're going to be in the future. So they're not irrelevant with the technology they have today. And I think it's important for all of the small business owners as well, that a small business owner can be better at one thing than any of these big companies. And that's what I had the privilege of her last 15 years going around the world, going in and out of literally, very small companies and Tel Aviv or Shanghai or Shenzhen or Singapore or London, and literally meeting these companies that are going to disrupt the world and now they're disrupting the world. And that's what I kind of captured in this 15-year journey that I titled
Exponential Theory
of the power of thinking big and hopefully, you know, can inspire some of your listeners to get a copy.
Justin Recla:
Absolutely, folks, this is yeah, if you don't have a copy of exponential theory, definitely pick up pick it up or come meet Eric live at one of the Venture Cafe events here in Phoenix. He is a co-founder of Venture Cafe here in Phoenix. And, folks, if you're not paying attention here, there's a lot going on, there's a lot changing, there's a lot shifting, and it's not just technology, but it's consciousness as well. It's been able to afford vision, stop looking back at the old stuff, create new stuff, and get on board. We're gonna talk about what that looks like, right after the break. But before we do and where can people go find more about the exponential theory that books your work in the things that we're gonna be talking about today?
Aaron Bare:
I think the best place is my website, Aaron Bare, AaronBare.com. All the information is there. You can connect to my social media, as well as how to buy the book and learn more about things that I'm I'm involved in some of the different projects so
Justin Recla:
Fantastic, folks. Go take a look at Aaron's book. We'll take a look at his website. Stay tuned. We'll be right back.
---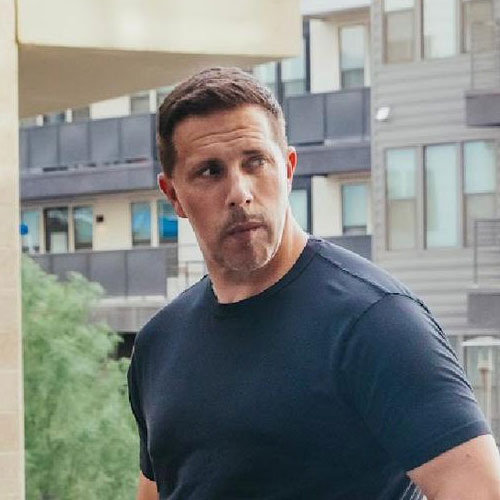 Aaron Bare is a Wall Street Journal, USA Today, and #1 Amazon Bestselling Author of Exponential Theory, Founder of the Change Agents Academy, and IAF Endorsed Facilitator.