About Aaron Bare
---
Article written by N. Forbes Shannon, coauthor of Exponential Theory.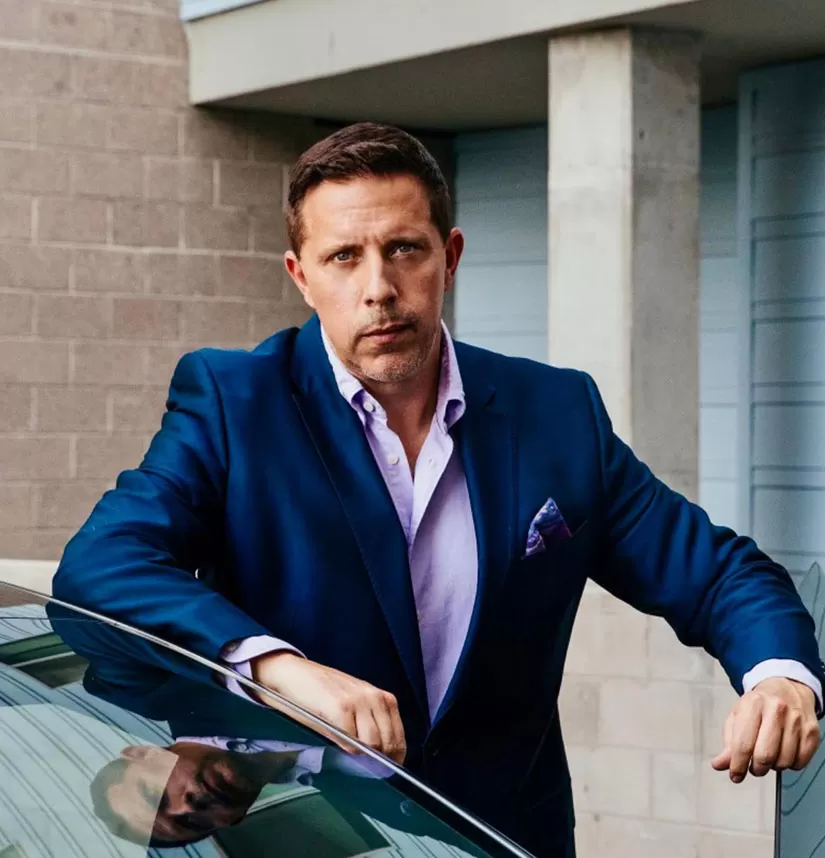 Aaron Bare is a globe-trotting Change Agent that can parachute into any boardroom to help leadership solve problems, create, and sell stuff.
Despite his powerful 6'3" 200-pound frame, the first thing you notice about Aaron Bare is his brilliant white smile and his deeply contagious laugh.
Aaron embodies his sole personal rule: "Have fun!" with positive energy that illuminates each room he enters. Deeply in touch with his purpose, Aaron works directly with companies, leaders, and his own circle of influence to help them think exponential, think digitally, think bigger, learn, and grow. While he leads serious conversations that lead to impactful change, he still says it's just as simple as having fun.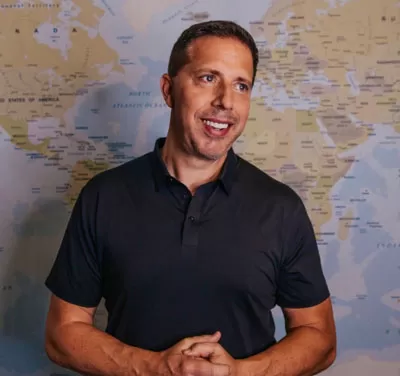 To facilitate means to "make easier," so as a Change Agent, Aaron is the leader that makes life easier for everyone around him. He works directly with some of the most powerful people on the planet helping them make the most difficult, confounding, and courageous decisions they need to change for the better.
His experience as a Change Agent took him to nearly 100 different countries, and was the inspiration for his magnum opus, Exponential Theory: The Power of Thinking Big, which he wrote when the world shut down in 2020. The book has already gone on to become a Wall Street Journal, USA Today, and #1 Amazon Bestselling Book, with incredible reviews and testimonials from major exponential leaders.
"Exponential Theory states that when leaders focus on solving big problems, they become more conscious," he writes. In the book, he coined the word "thrivability"–a state that is not survivability or even sustainability, but an exponential mindset that goes beyond today, thinking about how you can personally, professionally, and organizationally thrive in the long-game of life.
"When you think big enough, you stop sweating the small stuff."
To Aaron, this perspective shift to an exponential mindset and abundance is exactly what makes his life easy. "My perspective changed, and my life accelerated, when I boarded Semester at Sea as a senior in college."
The study abroad trip was his first time out of the country, and the trip that circumnavigated the world brought a huge smile to Aaron's face as he reflected on the voyage. He dotes on the memory as the moment he stepped into the uncomfortable and learned to thrive in ambiguity.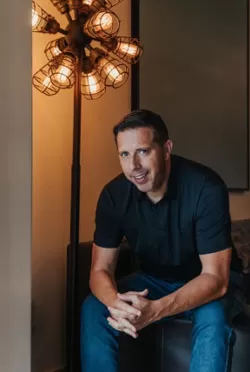 "The life-long comedian began to realize that a life of substance was so much more than just being funny," he beamed. Beyond being just funny, Aaron strives for excellence, while being generous, inclusive, thankful, meaningful, and authentic.
"The revelation I had on my trip opened my eyes to a world of possibilities," Aaron said, noting the trip also gave him an insatiable curiosity that has driven his purpose and helped him continue to seek life-long mastery in his craft. All while appreciating the small freedoms most take for granted.
After returning home and graduating, Aaron landed at Accenture, one of the most coveted jobs for graduates (accepting one in 5,000). Yet, after a few years, Aaron took a leap of faith to launch his entrepreneurial career with a bold goal of innovating industries by developing an award-winning digital strategy firm that worked with some of the most prestigious clients in the world like Google, Coca-Cola, and Harley-Davidson. Aaron would go on to build and sell 12 different companies that he spun out of his firm's accelerator.
The Innovation Facilitator
Aaron went from getting by academically in high school as the class clown to teaching at prestigious institutions like the Thunderbird School of Global Management and Singularity University at the NASA Ames campus in Mountainview, California.
After selling his digital strategy firm for a potential early retirement, his confidence propelled him to become an innovation facilitator, working with some of the most exponential companies and thinkers in the world.
Aaron was as comfortable leading conversations in Silicon Valley or New York as he was in Shanghai or Tel Aviv, often helping leadership teams through digital transformations leveraging exponential technologies, new business models, new strategic directions, and innovation. He became a voracious learner often consuming two to three books a week and could be described as a polymath going deep on a multitude of subjects ranging from philosophy, quantum physics, psychology, and neuroscience.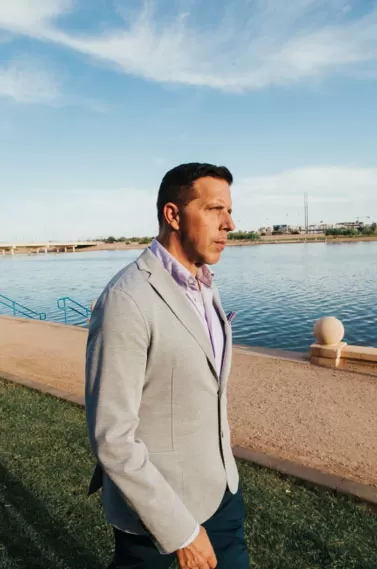 Aaron's presence is calming and in control–he is just as comfortable in conversations with the janitor as he is leading a discussion with the board of directors. He cofounded Herozona Foundation with his long-time business partner Alan "AP" Powell. Together they created the Bridge Forum, a forum for communities to have tough conversations. After the riots in Baltimore and Ferguson, the Bridge Forum served as a national dialogue platform between local communities and their police forces.
"AP and I found the Bridge Forum to facilitate difficult conversations and make them easier for communities and law enforcement to create real change and close the gaps."
The Bridge Forum is just another testament to Aaron's ability to be mindful, strategic, and thought provoking in some of the toughest conversations. "There are no emergencies," Aaron explains.
"We create emergencies when we are not prepared." When Aaron walks in a room, he facilitates a safe space to pull the best out of a group knowing it is always better to leverage the wisdom of the collective.
In search of the best possible outcomes, Aaron uses his seven universal truths both in and out the board room, as described in his book Exponential Theory. Aaron is intentional with his thoughts, words, and actions, and his intentionality can always be traced back to one or more of his universal truths.
The Seven Universal Truths
1. You are always right.
2. We are our habits.
3. Attitude is everything.
4. What we resist persists.
5. The goal is not the end.
6. Enjoy the moment.
7. We are all one.
These seven universal truths re-appear in the reflection section at the end of each chapter in his book, with a goal of assisting those that take the questions seriously to hatch an exponential mindset, beliefs, and attitude (or as he calls it, an XMBA) en route to becoming the hero of their own journey.
A self-described educated minimalist, he has made himself the hero of his own journey. The educated half is apparent in his routine and his deliberate use of his time. A day in the life consists of eating a healthy breakfast with friends and colleagues after 4 hours of deep work, religiously working out at F45, and then recovering in a cold-plunge and then the sauna on the roof of his building. He then has another 4-hours of deep work before hosting a dinner party or attending a charity event (either his foundation or another). The minimalist half shows itself with how he typically leaves his home–with just his iPhone and surrounds himself with minimal distractions so he can find flow in everything he sets his mind too. Through his educated minimalist character traits, the simplicity focuses him on the long-term and he completes more everyday by noon than most accomplish in a week.
He's also intentional with who he spends time with–which is best described as an eclectic group of people across the spectrum of ages, backgrounds, influences, and skills all of whom he is dedicated to making exponential. Improving the members of his immediate network is one of the three distinct parts of his personality, best outlined in one of Aaron's favorite books, Tipping Point by Malcom Gladwell.
"I work every day to be a Maven, Connector, and Salesperson."
Exponential Theory is Aaron's arrival as a thought leader and clearly gives him maven status. He's the consummate connector always introducing people and weaving a network to accomplish exponential results; he loves hosting dinner parties and creating experiences people will forever remember. Finally, as former Chairman of the National Association of Sales Professionals, Aaron coined an article called "Sales is Dead, We Live in a Buyer Funnel." The article insists never to get caught selling, and the need to help people find the right solution (regardless if it benefits you, or your company) because serving as a trusted advocate yields exponential results. Exponential results are "10x instead of 10% increases," as he writes in his book, is key for the future leader to focus on.
The Future Leader
"No problem can withstand the assault of sustained thinking," -Voltaire, is one of Aaron's all-time favorite quotes, and it's reflected in his book and the focus of his outcomes in facilitation, with a goal of empowering an army of exponential leaders and changemakers to solve the world's greatest problems, both inside and outside their companies and industries. He naturally challenges his clients to think bigger, bolder, and more abundant.
While the man himself is a breathing example of the future leader, Exponential Theory outlines many tools that will be useful for leaders in the future. Among them, include the need to establish vision, understanding, clarity, and agility to address the volatile, uncertain, complex, and ambiguous world we live in. Then there's the "Exponential Mindset," which is the sum of thinking big, a positive attitude, and the growth mindset. "Mars Shots" encourages leaders to set unfathomable goals and the "Emerging Tech Stack" outlines the path to singularity, where humans and computers inevitably converge. This stack can help companies see the disruption already being introduced in their industry.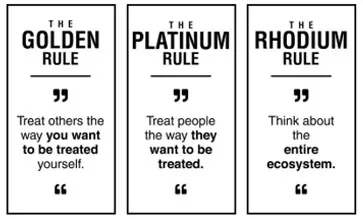 In the book, he goes onto outlines the "Rhodium Rule," arguing that future leaders must consider the entire ecosystem every time they make a decision. "In the future, it's not enough for just shareholders to win," Aaron explains. "Leaders in the future will have to consider all stakeholders – employees, suppliers, consumers, and the planet to win."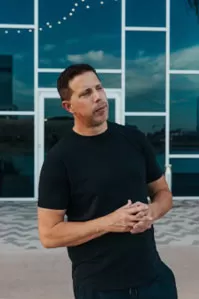 From easing leadership making multi-billion-dollar decisions to helping CEO's overcome childhood trauma, Aaron does whatever it takes to ensure a better future for all stakeholders. This fuels the Change Agent to step up into tough conversations.
"I'm grateful when I sit back and reflect on some of the people that ask me to help them, and what they want my help them on," he smiles. "My work is very meaningful and purposeful." He has direct contact with CEOs of global 100 companies to some of the most exponential startups, Aaron helps those paralyzed by complexity understand the unintended consequences behind every decision, or indecision.
"The great part about of my role is that leaders have the answer to their own problem, they just need somebody outside to ask the right questions to make them step back, so they can see the solutions for themselves."
Those that get to meet Aaron can feel the X-Factor energy that radiates from him. He's proven to be an exponential leader that knows how to make a big impact, grounded by his unique ability to challenge everyone around him to think bigger.
"I know that I'm resonating with somebody when I meet them and they immediately turn around and plug me into the most important parts of their network," Aaron digresses. "I am living a self-fulfilling prophecy creating exponential leaders every time I facilitate, speak, coach, advise, or get someone to read my book. I'm in a good place to make an exponential impact."
Hopefully you get the opportunity to learn more about Aaron Bare, Exponential Theory, and tools for future leaders on your journey to find your exponential future.