October 25, 2022
11 Social Media Sales Funnel Strategies for Brands to Consider
---
BY FAST COMPANY EXECUTIVE BOARD, October 25, 2022
How can business marketers easily convert emoji-likes into "real" buyers of their products and services? In the business world, the bottom line is that having a million followers on your social media pages doesn't necessarily add up to an immediate bump in quarterly sales.
You have to work for it, hard, if you want your establishment to become a true financial success, beyond comments or social gratification.
To win consumer confidence and build their trust and loyalty, try putting yourself out there by sharing your brand's authentic voice. Then create educational content about your company's "why" for potential and existing customers. Avoiding the mistake of being too salesy is another fine way to strengthen B-2-C relationships over time.
Below, 11 Fast Company Executive Board members provide other leaders with their tried and true methods for engaging with "friends" across digital platforms, encouraging them to go one step further through the sales funnel—putting their money where they spend most of their (social) time.
1. FOLLOW-UP AND FOLLOW-THROUGH.
Follow-up and follow-through skills are essential. Social media is an awareness tool, yet repetitive. Consistent follow-up will help you reach new clients. Then, follow through on all your commitments. Share your success with new clients in your network. Rinse and repeat. – Aaron Bare, Kin + Carta
2. PIQUE YOUR FOLLOWERS' INTEREST.
Try to generate an appetite but don't feed them a meal. Leave things unsaid or not obvious. You want them to be interested enough to engage with you, but not to feel as though they have enough information to know you completely. – Scott Tait, Pacific Science & Engineering Group
3. PROMOTE CUSTOMER TESTIMONIALS.
Social media isn't the best place to make sales but there are things you can do to increase consumer interest. For example, share a review of your offering from someone else's point of view. In other words, a customer testimonial. To make it even more compelling, share user-generated visuals (with permission). Don't forget a specific and compelling call to action and the purchase link. – Maddy Osman, The Blogsmith
4. FOCUS ON HOT TOPICS.
Original thought is highly valuable to followers. Anyone can read a news article on a piece of content, but many people value insightful perspectives on them. As businesses establish a thought leadership profile, they often attract engaging followers who then naturally want to consume their products and services. It is because they see the value in what the company is producing across the board. – Joseph Martin, Kinectify
5. IDENTIFY AND ADDRESS NEGATIVE FEEDBACK.
Don't avoid engaging with negative followers. Identifying critical feedback provides you with an opportunity to offer advice or guidance to potential consumers. If you can meet these followers on a personal level and change their perspective, they will feel a strong sense of connection to your brand. – Kelley Higney, Bug Bite Thing
6. CREATE ADDED VALUE OPPORTUNITIES.
Give them something valuable without asking for something in return. Then, do it again. Instead of asking, "When can I get this person as a client or customer?" ask, "How can I serve this person so when they do become a client or customer, they become incredibly loyal?" – Tyrone Foster, InvestNet, LLC
7. INVITE CURRENT CLIENTS TO PARTICIPATE IN EVENTS.
Do something that gives clients a reason to promote your brand on social and organically (i.e., gifting). But remember, it's not the gift, it's the message and the delivery of the gift. You could also highlight a client follower by offering them to speak at a conference you run. Or, highlight them for their good work while tagging many of their peers. Have them help you solve a complex problem where they are the centerpiece – James Gilbert, RedRoute
8. BE SLOW TO JUMP ON THE BANDWAGON.
You do not have to follow the trend. Voiceovers, reels, trendy music, and comedy acts may be popular for a period of time but won't convert your true fans that see your true worth. The only tried and true method to convert followers is to be authentic and to consistently add value. Trends are entertaining but will fade quickly, and "going viral" is not a sustainable strategy to grow a business. – Craig Stevens, Groundbreaking Real Estate
9. SHARE YOUR EXPERTISE, GENEROUSLY, AND TELL STORIES.
People don't want to be sold; they want to buy. And they buy best, through stories and subtle influence. When using social media, especially for the personal accounts of owners and leadership – think of your social media as a form of "public journaling." Share your insights, thoughts, questions, observations, and expertise. Draw them into you, the human; don't sell them into you, the company. – Scott Abbott, Straticos
10. GIVE BACK TO YOUR COMMUNITY.
Pay it forward. Interact on social channels without an ask. Build trust and rapport by giving back to the community which organically evolves into a mutually beneficial connection. – Britton Bloch, Navy Federal
11. EXPLAIN YOUR COMPANY'S 'HOW' AND 'WHY,' REGULARLY.
People always talk about authenticity, and that's certainly important, but we lean into transparency. We let our followers know the "why" that goes into every product or service that we offer. We show them exactly who develops those products and provides those services. And we make it all informational, not salesy. This builds trust and, over time, loyalty. – Richard RB Botto, Stage 32
---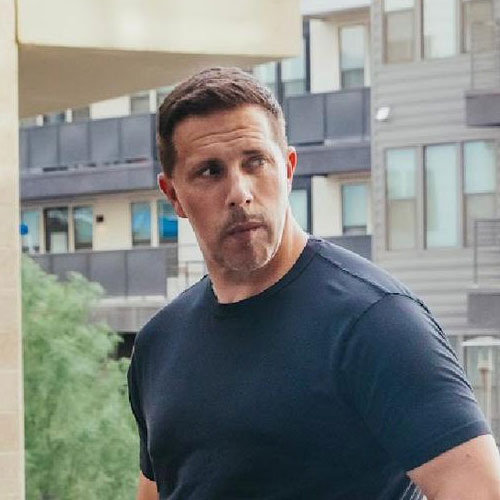 Aaron Bare is an Strategic Facilitator and a Wall Street Journal, USA Today, and #1 Amazon Bestselling Author of Exponential Theory.